My hands froze so hard today.
Froze to the point they hurt SO bad when they were defrosting between my bum with the heated seat of the jeep.
Of course I forgot my gloves today #classic.
Beside the fact that I almost lost my poor little fingers to the cold, I had a really amazing day!
Ukrainian Christmas Fair
When I pulled up in the jeep the line to get into St. George's church was MASSIVE!
I was so shook, everyone was waiting in the FREEZING cold to be the first inside for some homemade pierogi and Ukrainian sausage!
I guess I would wait in line too if I knew what I was waiting for was TOTALLY worth it!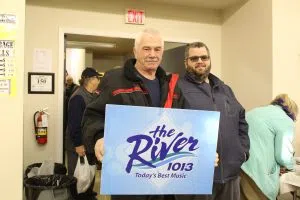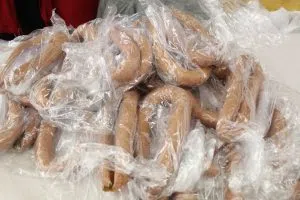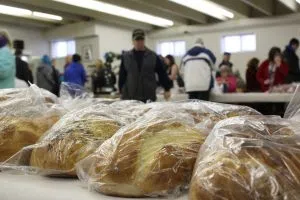 And let me tell you, I think it was!
As soon as they opened up the doors, the amazing smell of home cooked food filled my lungs.
I can't tell you that I know from my own experience that the food was amazing…but again, judging by the size of the line and the amazing smell in the air, I'd have to say it was probably finger licking good!
MNP Canada Winter Games Torch Relay
The moment she took off with the torch in hand, I was immediately reminded of when the 2010 Olympic Torch ran right past my house in Langley!
It was so cool to watch the torch relay up close and also get to see the cool family friendly games they had set up inside the civic centre!
What a great way to get the community pumped for the Canada Winter games!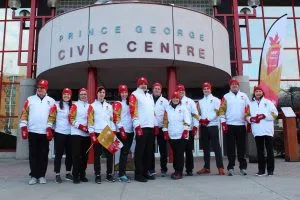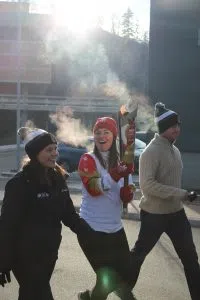 Holiday Small Business Fair
I ran into Santa Claus and one of his elves today at the Roll a Dome for the Holiday Small Business Fair!
There were so many vendors with amazing products and great gift ideas for just about anyone on your Christmas list!
I wanted one of everything, unfortunately that was not possible.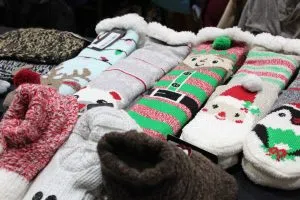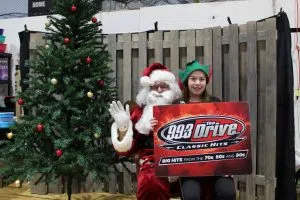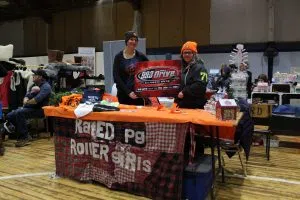 I met these lovely ladies who play Roller Derby and I am now very inclined to try the sport!
I think I may just drop by on their "Fresh Meat" night on Thursday from 6-7:30pm!
If I played rugby, I am sure I can handle this!
The Exploration Place Part I
Okay, so I had never been here before—well, I have been "here," just not inside to view the gallery.
I actually ended up here because of a lady named Teri that I met at the torch relay earlier!
She mentioned to me that her mother knew Terry Fox's mother and how I should go check out the Terry Fox exhibit at The Exploration Place!
So I did, and I read every inch of the place.
I honestly have never left a somewhere feeling as inspired as I did today.
I couldn't help but cry as I read some of the descriptions on the displays.
What gets me the most is how so many people on this planet are given the amazing ability to wake up every morning, without a life altering illness but decide to waste away their day by nit picking at all the things they wish they had, instead of appreciating what many others wish they could have—health.
I'm not saying everyone on the planet is ungrateful…but I mean, sometimes we can be.
And I say "we" because we've all been guilty of it, including myself.
But there was Terry, 18 years old, an amputee, battling cancer and attempting to run across Canada while raising awareness about the disease.
If that isn't inspirational, I don't know what is…
I am going to run the Terry Fox Run next year, no matter how in shape I am or not, I am running it.
Being able to view his personal items at such a close distance like his shoes, his journal, his prosthetic leg…it made it more "real" for me than any story, movie or powerpoint I'd ever seen.
He really is a Canadian Hero, and now I will make sure that his legacy lives on.
The exploration Place Part II
I also spent some time meeting some very fun and passionate staff at The Exploration Place!
Lindsay introduced herself to me first and told me she would take an animal out for me to hold.
"Like cute ones?" I asked.
"It depends what you define as 'cute'," said Lindsay.
Let me tell you that the animals I saw were ones I would definitely not define as "cute."
BUT the staff was awesome enough to tell me some cool stories about them all and let me hold one of the garden snakes!
I kid you not this snake stared right into my soul for what seemed like an eternity, it was probably only a few seconds, but you catch my drift.
I learnt about some of your history PG and I thought it was so cool to see how the history here and the History back home in the Lower Mainland and Vancouver intertwine!
Thank you SO SO much for an awesome Saturday!!!
I shall see you tomorrow!