Happy Sunday friends!!
I think Sunday is probably the one day of the week that no one really looks forward to because it means the weekend is over, and another work week begins tomorrow.
See, I don't feel that way because I work almost everyday, so I rarely have a break to let my feelings about not wanting my break to be over simmer.
Festival of Trees Last Day
It was the last day of the Festival of Trees!!!
This brings me so much sadness, because I genuinely loved this event…I think the trees should stay up until Christmas 🙂
I spent my time talking to people and searching to find the tree with the highest bid!!
I found it, the highest bid for this tree was $6,000!
There was a very close second, this one right here which had a bid of $5,500!
I can't wait for the day I can drop 6 g's on an awesome Christmas display!!
Christmas Craft Fair
I shouldn't have to remind you that craft fairs are MY FAVOURITE, but in case you've forgotten, they are!
I met the nicest people today at the fair, this gentlemen told me how he had taken up a family hobby when he was younger up in the Yukon during the summers!
(Don't quote me on that cause I may be wrong!)
I thought it was so amazing that he has decided to keep the tradition alive by continuing to make these incredible pieces of art!
Look at how beautiful they are, absolutely breathtaking!
I am always SO amazed by the amazing creations people can tinker up!
Also, make sure that you check out the Santa Pancake breakfast at the Blackburn Community Hall next Sunday!
Tickets start at five dollars and anyone under five gets in for free!
Bring the whole family and enjoy delicious pancakes with the jolly old man himself!
Christmas Greens Classes
I have been wanting to drop by Art Knapp for months now!
I really want succulents for my place, and hanging baskets of plants!!
I am literally DYING without any other form of a living creature in my house!!!
Anyway, I finally was able to stop in, and as soon as I walked through those doors it was Christmas EVERYTHING!
You wanna deck your house out in just about anything Christmas? Make sure you check out Art Knapp!
I keep getting distracted from the point I am trying to get to…it was just SO AMAZING!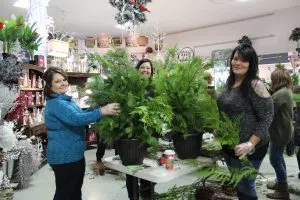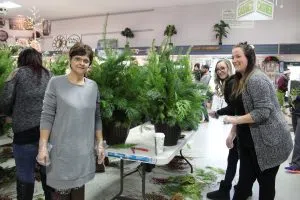 Anyway, I was there for one of their Christmas Greens Classes that they've been doing since mid November and it looked like SO much FUN!
All of these ladies followed careful instructions of how to put these gorgeous holiday planters together!
Apparently if you do it right, they can last you all winter, right up until March!!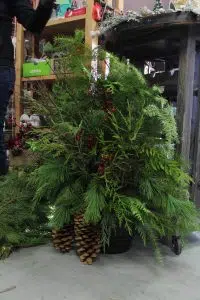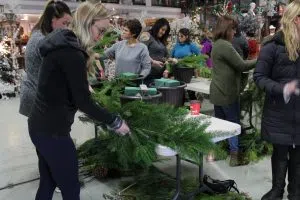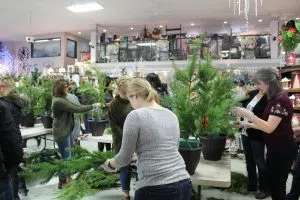 As soon as they started building their Christmassy creations the room filled with the smell of pine and cedar, it was as if Art Knapp's had become a forest.
I feel so spoiled because they gifted me a Poinsettia that I am super excited to take home and use to make my apartment feel more holiday-ie!
Thank you so much to all those of you who made this weekend amazing!
See you next weekend!