Exactly one month until Christmas!!!
Isn't it crazy how it went by so quickly—the year I mean.
It feels like it was just yesterday that I was still in school at BCIT, working at Cactus Club Cafe on the weekends and celebrating Christmas with my family.
It's weird how much life can change in the span of a few months, and how much more it can change in the span of a year!
I was entirely blown away by the Festival of Trees, and the Civic Centre light up!
It really amazes me how strong the sense of community is here and how many people were out enjoying the event!
Festival of Trees/Civic Light Up
This was my first Civic Light up, the title of this blog doesn't lie, I swear!
It was so cool, honestly!
I really love this community so much, everyone is so nice and I feel like those attributes make PG kinda cute.
I managed to give away all the Spruce Kings tickets I had, and I had 20 tickets!
There was hot cocoa, food and POPCORN!! I started to feel really hungry…
I am not going to lie, trying to get you to take pictures infront of our Kinky Boots cut outs was one of the hardest things I've ever done.
The first time I went around, EVERYONE rejected me!!! I even bribed some people with FREE tickets to see the Spruce Kings and y'all didn't take the bait!!
I was pretty discouraged after the first round, but I took a break and posted some things to social media and then decided to take a stab at it again—this time I had a bit more success.
But it was darn hard to get you to participate!!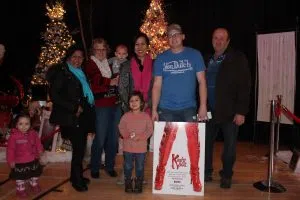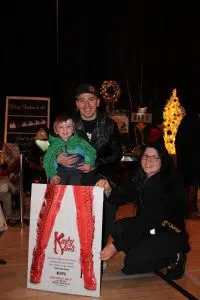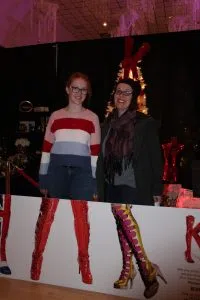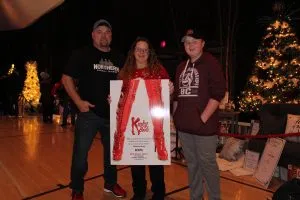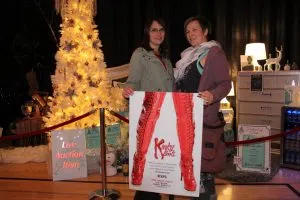 For those of you lovely enough to get your picture taken, you all have chance to win some tickets to see Kinky Boots the Musical on March 22nd!!
For those of you who didn't, we'll work on it.
Next time I see you I want a picture!!
Everything Wine and Cheese at Van Horlick's
I cannot believe this was my first time here!!
There was SO MUCH cute stuff!!
I wanted it ALLL!!!
They had some really great sales going on for personalized Canadian Maple and marble cutting boards!!
They were so nice!!! Someone buy me a personalized cutting board PLEASE!!!
Like look at this, how could you not want something like that at home?
They also had these hand painted wine glasses which you could personalize for someone in your family!!
Honestly, you could do all your Holiday shopping here in one go, I swear there was something for everybody!
Check out these little glass balls I took a picture of, I am not really sure what they're for…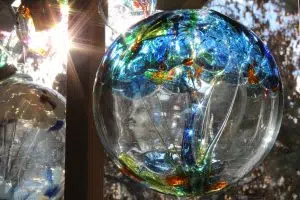 They're probably just a decoration, but they are so nice!!
I really need to start decorating my place…it is SO bare!
Well, we know where I am coming to get my home decor!
Scrabble Sunday's at Cafe Voltaire
I came back and guess what?!
I played MY FIRST GAME OF SCRABBLE EVER!!
I'm telling you, the title of this blog didn't lie!!
I had a lot of firsts today!!
I am so thankful to John Aitken who had the patience to sit with me and teach me how to play properly!
We only played for an hour, but I think I am ready to play the game with some friends, I can't wait!
Thank you PG, for another amazing weekend!
I think I have grown a bit of a soft spot for you. 😉
See you next weekend!