I simply want to start this post off by saying that it was very cold today, and I don't like ice baths and if you mix those two things together it is not a fun time.
At least I didn't think it was a fun time until today.
Sometimes I thank the world for the really wild people that would even think up the idea of combining the two though! Although it might not be fun to participate in jumping into a pool that contains ice cold water, it sure is fun to watch.
UNBC Chillin for Charity
This is the event I was referring to.
These WILD people took to jumping into an ice cold pool for a cause today.
There was costumes and music, food and drinks to keep you warm…because it was EXTREMELY cold outside of the CN Centre.
Look at this trio, what good sports they are for climbing into the back of that pick up and plunging into the ice cold water.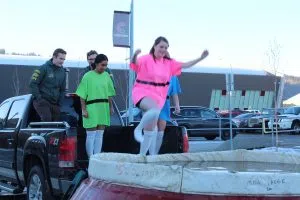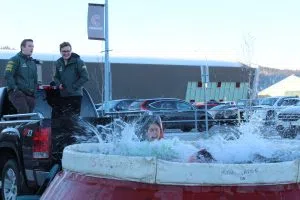 Wild. WILD!!
I wouldn't dare do this EVER, I know I would like die of hypothermia or something…
Nope, you couldn't even pay me to do it. I had someone tell me they'd give me 50 dollars to jump in…HAHA, what a great joke–never, NEVER!!!!
All the proceeds are going to the Spirit of the North Healthcare Foundation.
PG Italian Bake Sale
I don't have any Italian friends…but after this event ALL I WANT are Italian friends!!
Everyone was SO extremely nice and they were SO excited to show me the food they'd made to sell for their fundraiser!
200 homemade lasagnas were made by the awesome community that surrounds the Italian Club and I know they went quick!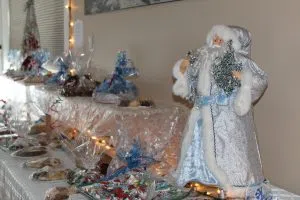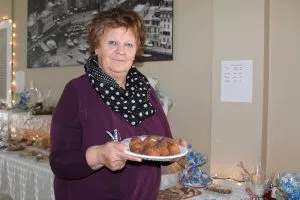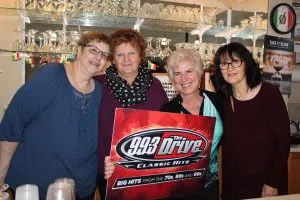 When I left there was already a line of people waiting to get their hands on some of the delicious looking baked goodies!!
Look at them!! Don't they look so excited!?
I am sure they all left with their hearts full, bellies stuffed and arms full of delicious Italian food!
Inspiring Women Among Us Chillin for Charity
I feel like I am always at the Omineca Centre on Sundays…
Jen from the Khast'an drummers even mentioned that I am there all the time!
I wish I had been able to stay longer at this event because I felt like it started a bit slow so I didn't get to see all of the juicy parts!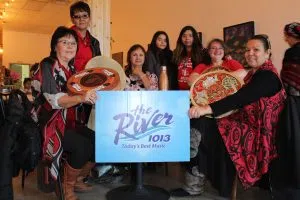 What I did see though was so very nice! The Khast'an Drummers played a song open the event and it was amazing, they are such great artists!
There was food, drinks, live painting, poetry and a little section for kids to paint and draw!!
Thank you for another great weekend PG!
See you next weekend!