21 years ago today I was born.
Who knew that at 21 I would have finished school, gotten a diploma and made the biggest move in my life. I had no idea.
I am thankful for the great day I had out in the community today, I am thankful for everyone at the station making me feel at home since day one.
There's nothing worse than working in hostile environment, but after being here for the past three months I can tell you that this is not what it is like here at all.
Everyone is so kind and sweet and supportive and I appreciate the kindness I have received from everyone.
I am so glad that I've been given the opportunity to meet all of you, to immerse myself in your community.
I am so glad that I get to spend my 21st birthday in such a great city.
Feminist Children's Storytime
On my first day at this job, this was the first event I was sent to, Storytime at Books and Company.
It was nice to go back again and experience from a new perspective!
Books and Co. does Storytime every Saturday at 10am but todays had a bit of a twist.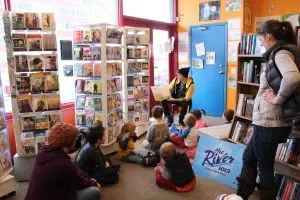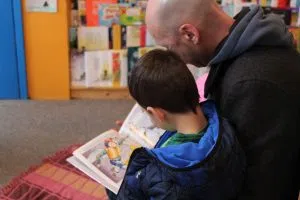 The twist being that it was part of a week of events by Inspiring Women Among Us (IWAU) a week of events aimed at empowering women!
Books with strong female leads were read to the kids who all seemed to have a great time!
The turn out was awesome!
Santa Parade
Okay…if there's any mall that knows how to give Santa Clause an amazing entrance its Pine Centre.
There was a band playing bagpipes and drums that marched throughout the mall parting the crowds for Santa to make his way to his "throne."
Prior to that Santa was riding around in the parking lot sticking his beard and belly right out of the sunroof of a car!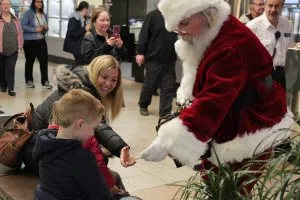 The band played through every wing in the mall before having Clause finally sit at his Christmas throne.
I am telling you…I have never seen a better entrance than the one I saw today.
Second Cup Grand Opening
Sometimes connecting with people is truly the best gift.
I met the owners of Second Cup here in PG and they are the sweetest beings…honestly…I cannot even describe how sweet and attentive they were.
It was their Grand Opening Day and there was a lot going on!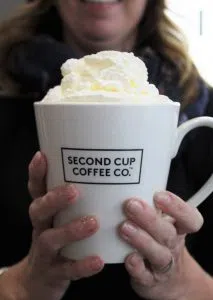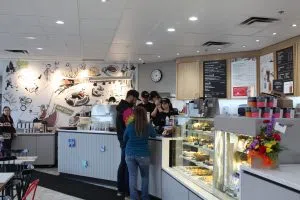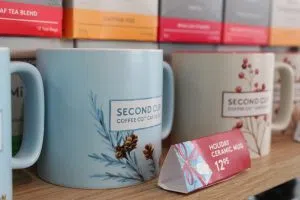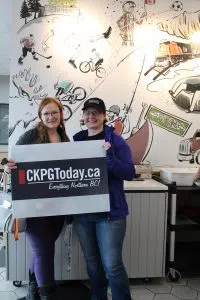 There was 10% off all Second Cup Merch, upsizing drinks, raffles too! OMG ALLLLL the fun stuff!!
I wish I was more of a coffee person so I could've sat down to enjoy a cup…
Unfortunately coffee makes my tummy upset.
Inspiration through Making
This was another event in the series of IWAU!
Four female artists came together and spoke about their lives, how they got into art, and they got to where they are now, etc, etc.
I only stayed to watch the first artist give her speech…but it was so absolutely and utterly inspirational…and I am not just saying that. I mean it with every bone in my body.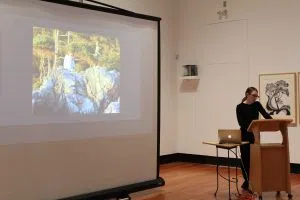 She shared her personal story of being homeless and pregnant and in an abusive marriage and then homeless again…honestly…to think that a human being has gone through something like that is absolutely heart breaking, but also admirable…because although she has been through tribulations, she picked herself up and put her heart and soul into something she loved.
I left feeling so very, very inspired. I hope I too one day accomplish great things.
Spin4kids
AHHH! Sometimes I wish I wasn't working so that I could go to these events!!
This one was calling my name!!
I love working out SO MUCHHHH and this gym, GoodLife is actually SO nice!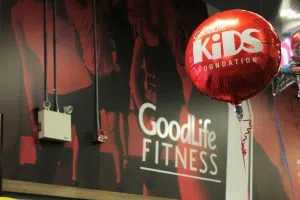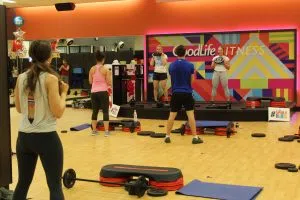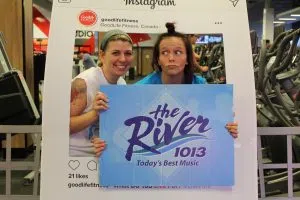 They were hosting Spin4Kids a fundraiser to raise money for the GoodLife Kids Foundation that supports children with disabilities.
It was awesome to see that the turn out for the class I visited was big!
Thank you so much for a great birthday while chasing the fun PG!
I'll see you tomorrow!