Some days this job has smiling non-stop!
I feel so lucky to have the chance to meet really genuine and sweet people every weekend through this job.
I can't explain how happy I feel when I find positive and kind beings out there and today was one of those days!
I met so many happy people and it really rubbed off on me.
House of Knives 40th Anniversary
Today I met Andre Eng, the president of The House of Knives as he was walking into Pine Centre Mall.
I saw him  hauling in these two massive looking packages out of a taxi along with a black box with the Swiss coat of arms on it—So I asked him if he was on his way to the House of Knives and he said yes!
We strolled through the mall together making our way over to the House of Knives and he told me that he had with him the world's largest Swiss Army knife along with the world's largest forged stainless steel knife!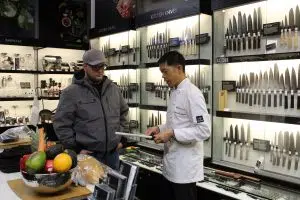 Anyway, I got to speak with Lorenzo, the Pine Centre store manager who was so very kind as well as the lovely employees they have at this location!
Check out the size of this thing!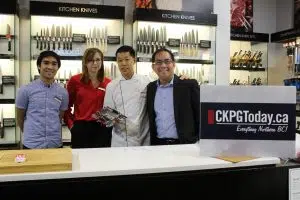 I didn't even know that someone kept track of the biggest swiss army knife, or largest forged stainless steel knife, but now I do.
Side note,  I must say that Andre has a very, very firm handshake.
So firm I felt like I had to mention it in this blog post.
Open Drum Circle at the Omineca Arts Centre
The last event of my day was the Open Drum Circle at the Omineca Arts Centre.
I have been here before and I have to say that I LOVE IT!
There's something about this group and the sound of the drum that is absolutely amazing!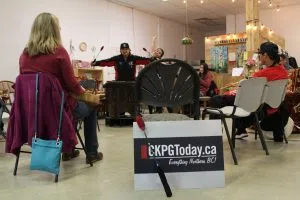 Not only that but it's so interesting  to see how the group introduces themselves, they say their names and then say what tribe or clan they are descendents of.
You and I , we don't introduce ourselves by saying, " Hi, my name is Veronica, I am half Mexican, half Salvadorian."
Introductions like that don't happen very often, to me what this says is that  they are embracing diversity and diversity is so important!
I left the Omineca centre with the biggest smile on my face after taking part in the circle and I promise you will too!
I really do recommend that you come and check this event out!
Thank you for another great weekend Prince George Can't wait for the next, see you soon!