Saturday was my first day back to work after a week long (not long enough) vacation home to visit everyone I left behind—my goodness that sounds dramatic.
It was a great time though, in case you wondered!
I stuffed my belly full with my vegan turkey from The Very Good Butchers (a vegan deli in Victoria), spoiled myself rotten with vegan mushroom gravy from Whole Foods, brussel sprouts and of course some vegan pumpkin pie with a dollop of the So Delicious brand coconut whipped cream!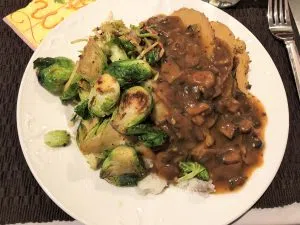 Who said being vegan couldn't be delicious!
Anyway, today was awesome!  I dropped by the Crossfit Northern ICE gym for the Festivus Games…and it was SO COOL!
I was super excited to meet people in the Crossfit community because it's a sport I have always been curious about! AHHHH someone buy me a Crossfit membership!
Electric vehicles at the Farmer's Market
Okay, I am a huge fan of electric cars!
Which you could probably guess if you've read previous blogs…I. LOVE. THE.PLANET.
So when my boss asked me to come out to this event I was more than happy to! My dream car is a Tesla—and I know you're probably laughing at me right now.
I know, I know broadcasting doesn't make you millions but hey, a girl can dream right?
Anyway getting to be up close and personal with these Tesla's was so cool! One of the models has features called "easter eggs" which are little hidden actions you didn't know the car could perform!
I was privileged enough to meet an owner who discovered one of the Easter eggs in his car. Check it out, you'd never think someone would program a car to do this but someone did.
The owners were there with their cars sharing their experiences of having an electric vehicle in the North!
I also learned that the province is looking at adding accessible charging stations throughout BC so that those with E.V's can road trip comfortably through the province and someday the country!
I can't wait to see the world move from gas and diesel to electric!
Children's Clothing Consignment Sale
Do I need to re-visit the fact that I love shopping second hand? Well, incase you weren't aware, I DO!
It is my favourite thing to do when I have a few days off, I love just sorting through well maintained second hand clothes!
They're not only cheaper, but re-using clothes is also great for the environment!
There were some really great deals at Theatre Northwest on Saturday for kids clothes ranging from toddlers to 12 years of age!
Festivus at Crossfit Northern ICE
Um, can someone please, please, PLEASEEEE get me a membership here? AHH this was just SO cool!
Festivus happens twice a year in PG and Saturday's was held at Crossfit Nothern ICE!
Basically what it is is beginner athletes, advanced, and competitors who come together to test their strength!
They register with a friend online prior to the day and then head on out with matching gear, or not and compete against each other!
There are vendors for you to check out as well as PLENTY of snacks and of course a break for lunch!
Honestly I had no idea how busy this would be…but there were SO many participants as well as spectators supporting the athletes!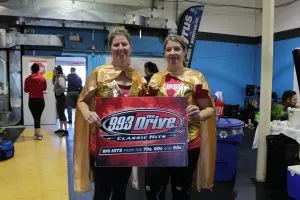 I watched and was very impressed and I think I want to try out Crossfit…like it seems really cool you know?—or maybe you don't know, we may not share the same idea of "cool", that's O.K too.
Any way that was it for my Saturday! I cannot wait to see you all tomorrow!