What an amazing opportunity this was!
The environment at Sonar was GREAT on Thursday as the crowd trickled into the club for a night of prizes, food, drinks, fun, and of course…the GRAND PRIZE! A trip to New York to see Elton John!
Honestly, I would be lying if I said I wasn't jealous of everyone who had the chance to put their name in the draw! This is definitely an amazing prize!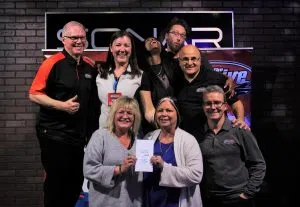 Our amazing sales team came out as well as some of out on air hosts, Darren Coogan, Ron Polillo and Doug Jones!
Marlene was the lucky winner and walked away with the two tickets to New York! The night was full of so much suspense!
I was on the edge of my seat the entire time!!
And we got the chance to watch two amazing comedians perform!!
They were SO funny!! This was my first time at Sonar and I would say that it was a pretty great night!
Thank you Prince George! And Congratulations to Marlene!!