Another day, another dollar.
I simply want to start off by saying that I feel so lucky and am so grateful that I get to kick-start my career in such a warm and friendly community!
CIBC Run for the Cure
The sun was shining bright over Lheidli T'enneh Memorial Park this morning, only enhancing its already tremendous beauty.
I want to give a shout out to all the people who came out and participated in the run Sunday!
There were so many emotions floating around in the crowd after listening to survivors speak about their battles with cancer.
The Prince George Cougars came out to support the event, as well as Catherine Hanson from CKPG-TV!
I was touched to hear the stories, and honored to have the privilege to speak with some of the cancer survivors that attended.
 
Scrapbook Zone
Okay, so I can't be the only one who has started a project and then…never touched it again!
I started a scrapbook 10 years ago…and I haven't touched it since…
BUT, for those of you who LOVE scrapbooking, or who want to get into it, this is the perfect opportunity to do so!
You get to bring your own supplies, and enjoy the amazing company of other scrapbookers while working away on your projects and then stopping to eat a great meal with everyone!
I can tell you first hand that the ladies here are SO NICE!
If you're timid, these ladies will for sure make you feel at home, I promise!
The next weekend of scrabooking will be held in February, so make sure you sign up!
When: February: 1-3rd and 8-10th
Where: Scrapbook Zone
Price: $75 for one weekend
Bring your own supplies
Culture Days
I love your art gallery PG, it is SOOO NICE! It makes me think of my future home…wherever it will be, it will have A LOT of natural light and many many plants!
It was a bit of a slow start today for Culture Days, but eventually some really nice folks walked in and were ready to start creating torn paper landscapes!
I really recommend Culture Days to anyone looking to just come and relax while making art.
It's a perfect environment to just make what you want peacefully!
When:  Sundays from 1-4pm
Where: Two Rivers Gallery
Antique Show
I've been so lucky this weekend, I feel like I have been to so many awesome second hand/ antique events!
My favourite thing to do is shop for antiques and items that are second hand!
I actually happened to accidentally bumped into this event!
There were SO many really cool vendors and I bumped into some familiar faces!!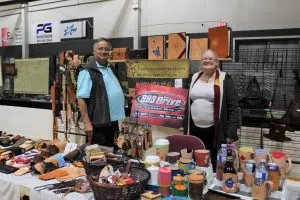 Also…did you know there was a by donation book store on the second floor at Roll-a-Dome? Yeah, there is and it's packed with books that are dying to be read!
If Al is there, he'll let you in! Ask for Al and tell him I sent you!
Thank you so much for another lovely weekend Prince George, I unfortunately won't be in next weekend but I will be back soon!
Until next time!