When you are surrounded by positive people, it is impossible to not ingest positive energy.
Sunday was another, yet amazing day in Prince George.
The amount of beauty I see in this city every time I get the chance to jump in the Funchaser is jaw dropping.
Even more so now that the seasons are changing. The colours of the leaves are stunning as the sun peeks through the clouds and reflects off their paper soft, golden exterior.
TD Tree Days in Prince George:
My morning started off at Cottonwood Island park, an oasis that has been kissed by autumns beauty.
I was here for the TD Tree Days in Prince George event! TD gathers a group of volunteers, from their banks and surrounding community members to go out and plant trees in hopes of keeping local parks thriving with beauty.
Today these five awesome volunteers and another 30 planted 255 trees throughout the park!
Kidney Walk:
At the AIMHI gymnasium, the 2018 Kidney Walk was taking place! When I got there, registration was just beginning!
I was told that unfortunately Sidney the Kidney—their mascot, was unable to attend the walk in Prince George because there is only one mascot in ALL of BC!
Although we missed Sydney, we had someone much better!
Meet Cyrus a 10 week old puppy, the only mascot they needed! It was awesome to see the community come together to support those and learn about kidney diseases.
Open Drum Circle at the Omineca Centre
Okay, so I tried to make it out to this event 3 weeks ago and there was no one here when I showed up! But today, today was different!
Honestly, I am so glad I was able to experience this event first hand.
There is something about how these drums are played, and the energy in the room…its almost entrancing. It's beautiful…and I swear I could feel everyone's emotions through the beats, through the drums.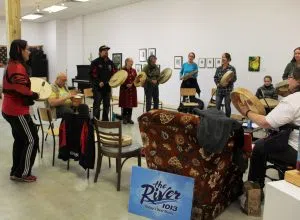 I felt very welcomed by a group of strangers and it was probably the first time I did a tad bit of public speaking without getting nervous.
I would highly recommend this event to those of you wanting to get in touch with your roots, and  learn about others backgrounds as well.
Thank you so much for another amazing weekend Prince George.
See you next weekend!