What another beautiful day in Prince George. It started off a bit cool, not freezing, but nice and then the sun came out and it turned out to be a gorgeous fall day.
I drove the Funchaser over for its weekly car wash—it needed it a lot more than usual, seeing that there was a splat of bird poop on the outdoor passenger handle. Then we went for gas, and then off to the Mini Maker Faire!
Mini Maker Faire:
I cannot express how much I LOVED this!! It was SO COOL! It made me wish I was a kid again so that I could get my hands dirty with all the demos!
My favourite thing that I saw was the pottery making…it was just SO COOL!
I'm also on the hunt for a new mug and I haven't found "the one" just yet…but what I saw these ladies making was closer to what I think I am looking for!
Just take a look at how beautiful their stuff is!!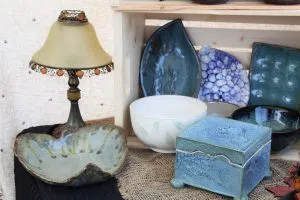 Be You:
This is such a cool initiative that the Big Brothers and Sisters of Prince George helped put on at Pine Centre Mall!
The event was targeted at helping build a child's confidence, by interacting with others while making dream catchers, getting their faces painted, learning how to dice food, self defense as well as teaching them about how to stay physically active and the reason as to why it's so important!
Shred it:
Shred it was awesome for people looking to get rid of that nuisance stack of paper taking up half of their desk.
A five dollar donation got your documents shredded and rid of by crime stopper volunteers! All the money raised today is going towards funding Crime Stoppers.
There was also burgers provided by Mr. Mike's Steakhouse Casual in case someone got hungry, which was so lovely!
Pop up Farmer's Market:
This was the last outdoor Pop Up Farmer's Market of the season!
I was a little disappointed to see that not a lot of the vendors showed up for the LAST outdoor one Pop Up, but the ones that did had the biggest smiles on their faces and seemed to be enjoying the gorgeous day!

Horse Jump Competition:
I was talking to a lady at the Farmer's Market who mentioned that I should drop by the Agriplex because there was a horse show of some sort going on.  So my curiosity kicked in and over to the Agriplex I went!
There was indeed a horse competition going on! I met a lovely lady who explained how the competitions worked and she gave me a quick little crash course on the situation, she was such a sweet heart!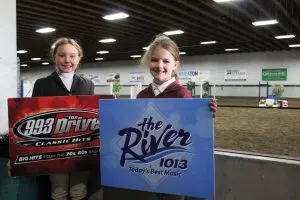 Honestly though, I am not the biggest fan of horses, I get pretty scared when I am around them…because they're SO BIG!
But, watching these young equestrians ride them through the courses without fear, and with so much poise and elegance it made me feel a new appreciation to horses, their riders and this sport.
Anyway, that was another Saturday out and about in the community! Thank you so much to everyone who took the time to talk to me today! You are all amazing!
Can't wait for tomorrow!  XOXO