I was cold from head to toe.
This morning I arrived at Farm Fest and headed over to check out the AIDS walk and block party.
I had to park a little over 2 blocks away simply because it was SO busy already!
On my walk over I nearly died from the cold…I am not even kidding. I LITERALLY lost feeling in my fingers… not even my parka could keep the ice cold wind from penetrating through and into my body.
I walked over to third avenue where the fest was taking place, stood there in the cold, and realized I wasn't going to be able to do this.
So I ran back to the Funchaser and drove home to put more layers on: a toque, gloves, and thermal socks!
Ahhhhhh, much better. Now I was ready.
Aids Block Party and Walk:
The rain and wind didn't stop the brave citizens of Prince George from registering and donating to the cause which is amazing!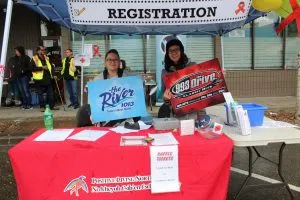 There were a few speeches before the walk kicked off! But as the walk kicked off, so did the rain! I was glad to see rainproof jackets!
Farm Fest:
I LOVED THIS! This is by far my favourite event! I somehow always manage to forget to bring my wallet to these things and then end up wanting to buy everything!
There was beautiful art, gorgeous handmade jewelry, fresh produce, weird looking mushrooms that I had never seen before, livestock , amazing smelling food and live music!
Basically it felt like they had taken the Dowtown Farmer's Market and made it 10 times bigger–and as we all know by now, I love Farmer's Markets!
It's just so amazing to talk to the creators, the farmers, and the artists behind the merchandise, you know?
It makes everything so much more personal, rather than going to a grocery store!
Pop up Bike Lane:
This pop up bike lane was also part of Farm Fest! The B.C cycling Coalition shut down a portion of Quebec street in order to test two different kinds of bike lanes.
The public was able to hop on a bike and test each lane to see which one they would prefer on the streets of Prince George.
Chevrolet Equinox Raffle at the Seniors Centre:
I was actually looking for the Great North Western Yarn Crawl-Fibre Fest…and accidentally bumped into this awesome give away!
Turns out the Fibre Fest is actually Sunday, but if you stop by the Brunswick Seniors Centre today or next weekend you can buy tickets for a raffle to win a Chevrolet Equinox 2018! So make sure if you missed them today to drop by next weekend to purchase a 5 dollar ticket!
Gun Show at Roll a Dome:
This was another accidental event that I bumped into! I was actually heading to Roll a Dome for their Public Skate, when I realized that the parking lot was awfully full!
I then bumped into a sign explaining that there was a gun show! So I walked in and started to speak with a lady named Deb.
She organizes this gun show every year by rounding up all the vendors from all over BC and getting them together for this annual gun show!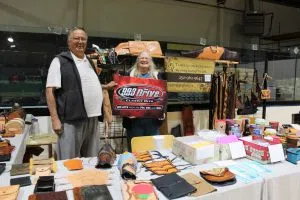 I am not a gun person. My first time shooting one was earlier this year and it was only because I was filming a documentary on gun laws, but it is so cool to see the community of people who hunt come together at events like this!
Thank you for another amazing Saturday! Can't wait for tomorrow!