It was a chilly morning, the morning that the Cops for Cancer Tour kicked off on their nine day Trek to Prince Rupert!
These 29 amazing team members are taking on an 850km bike ride through Northern BC to raise awareness on the effects cancer has on an individual and their families, as well as to raise money for cancer research.
Although many of these riders were emergency service personnel, some of them were not but have participated in the ride for many years.
They started their journey Friday by visiting two elementary schools before taking on the 100km ride to Vanderhoof.
All 29 riders were greeted with great enthusiasm and support at Heather Park Elementary where they introduced themselves to the students and teachers.
After their warm welcome they head out to Harwin Elementary where they were again greeted with an abundance of energy and gifted a small souvenir to take with them on their trek.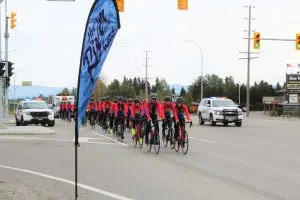 And then it was back to pedalling their way to Vanderhoof! These cyclists will endure a variety of weather as they make their way to their final destination, Prince Rupert.
Best of luck to all those on the ride!
1) Prince George to Vanderhoof: 100km
2) Vanderhoof to Fraser Lake: 175km
3) Fraser Lake to Burns Lake: 70km
4) Burns Lake to Smithers: 150km
5) Smithers to Hazelton: 75km
6) Hazelton to Terrace: 145km
7) Terrace to Prince Rupert: 150km