My first big event, on my first weekend as your Funchaser! If I am being completely honest, I didn't think  I liked rock music…key word "didn't." After this weekend though, I really do think I can groove to it!
I got to meet some really awesome people this weekend—even though initially  you may have only wanted one thing from me…a beer Koozie, I manged to get some of you guys talking and telling me about yourselves, thank you I do enjoy a nice chat.
Everyone was having a wild good time and that really rubbed off on me. I was super happy to see people bouncing the beach balls around in the crowd and sipping their beer with their new koozies! This was an amazing time, what can I say Prince George, you really don't disappoint!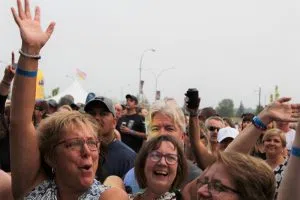 Thank you to everyone who posed for a picture!
Okay, love you guys, I'll see you next weekend!