My first Canada Day in Prince George!
Thank you PG for showing Sam and I a good time today out at the park! The weather was on and off but I would say all and all it was a fantastic day. I ate delicious food, I had the jerk chicken and Sam had Chinese food, we walked around checking out the local vendors, listened to some amazing music and watched some unreal dance numbers!
From 3-6pm I took over the mic and all of you had to listen to my crazy voice! I had so much fun introducing all the acts and throwing prizes into the crowd, I hope everyone got something!
Legally Blonde put on a phenomenal show to close up the stage and don't forget to look out for the fireworks tonight going off at 11pm!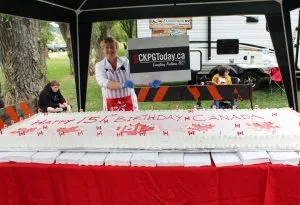 Happy Birthday Canada! 151 years strong!
-Olivia the Funchaser and Sam the Prize Girl xo