Today I felt honored to be asked to lead the warm up for the Walk for ALS, so we kicked off the day with the Hokey Pokey!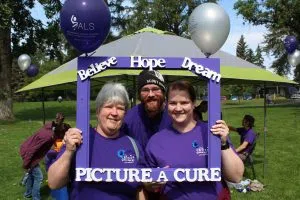 The walk went great, a lovely turnout of people looking to help take steps towards finding a cure for their loved ones and for this awful disease. I had so much fun getting everyone warmed up and after the walk they even had a BBQ, silent auction and fun games for kids so it made for a full day!
The other big event happening this morning was the "Ride Don't Hide" at the CN Centre. They had riders take on 15, 30 and 50 kilometer distances! Back at the CN Centre parking lot was food, music and activities for the riders to celebrate what they just accomplished! They estimated around 10 thousand dollars was raised and they had about 180 riders out for that day! Registration for next years event will be opening soon so keep your eyes open for it!
Today was my first time ever out to the Northern Lights Estate Winery! They had a special event happening today were they put on a FREE tour for the public so we can go behind the scenes and see how the yummy wine is made! This is such a beautiful location and I learned a great spot for a nice brunch as well!
This weekend was the grand opening of the new pavilion right behind Exploration Place. They had so many things happening like face paint, live music and dancing! The air was filled with the smell of delicious fresh made bannock and maple syrup flavoured cotton candy!! Such a fun day out at the park to take in some authentic Metis culture!
Another lovely weekend in the books, see you next weekend!
-Olivia the Funchaser xo