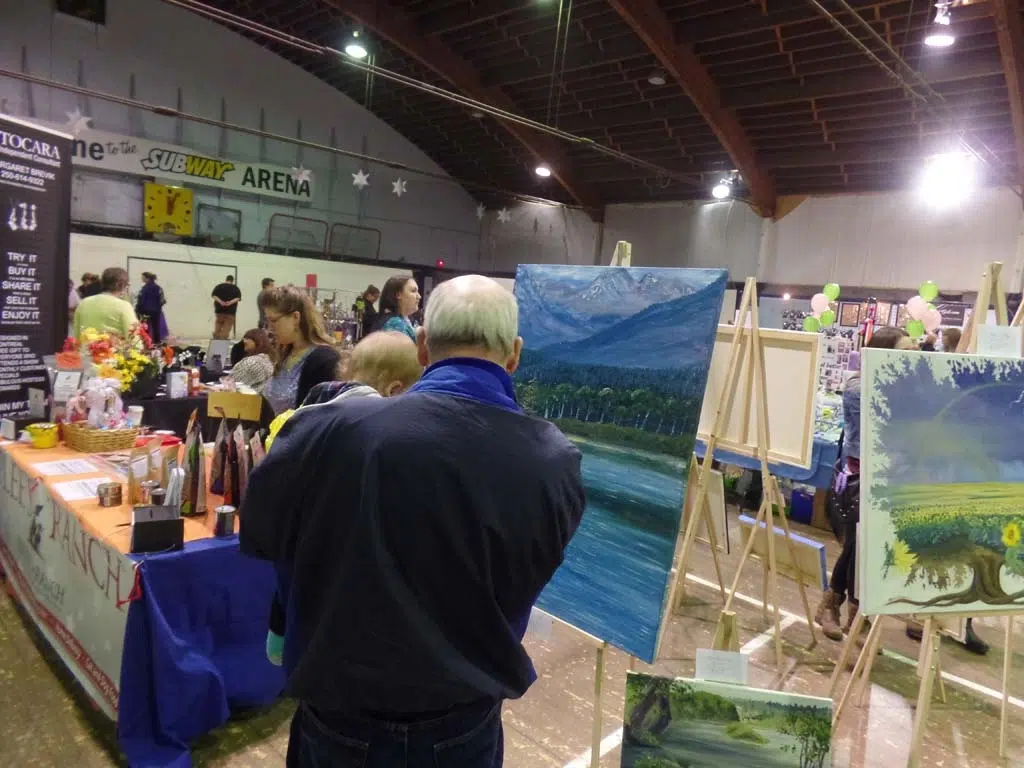 Not only is it time for spring cleaning, but it's also time to grab some cool new summer ideas, or birthday bargains!
In comes the Spring Small Business Fair at the Rolladome!
All of the Prince George small businesses and entrepreneurs gathered their goodies to show off to the public!
Admittedly the coolest thing I saw at the fair was something I have never seen or heard of before. That being Jewelry In Candles. A very interesting idea, where they sell the candles for a much higher price than usual, but at the bottom of the candle is either a piece of jewelry or a code that can win you something much much bigger! Examples being a Harley Davidson Motorcycle and a cruise! Definitely search it up, it's a very unique idea.
I heard a very admirable story from Norm talking about his coin collection. I was very interested in the collection, for whatever reason the old coins and bills caught my eye like never before. I asked Norm what got him interested, or started, with his coin collection. A little grin grew on the side of his mouth as he pointed to a specific coin. He says"1921″. He continued, saying that the exact coin, in much more mint condition was the very first coin he received on his 10th birthday. And that is what got it all started for him. If you or anyone you know is into collecting coins, call Norm at 250-561-1639 to talk about trading, buying, or selling!
I would like to mention a few of the booths that were standouts for me at the fair. One of which was with Robyn and her booth for Escape Wellness Massage. She had a ton of products on display that she uses for clients and their specific needs, alongside certain remedies that help with sleep and aromatherapy.
I chatted with a lady who was very proud of her product, that being Monat Hair products. She mentioned about how well the products have done for her hair and she is also using her husband, who is bald, as a guinea pig to use the product as proof of efficiency. She was generous enough to give me a sample of the shampoo and conditioner sample form the men's line at Monat.
Lorraine, from Lolly's Creations, spotted me and was curious why I was taking pictures of her display. Once I told her it was for my blog she spurted out of her chair and handed me her card to make sure I tagged her on Facebook and social media. She also made sure that I snapped a picture of her handcrafted and very unique windchimes. I had my eyes locked on her Star Wars accessories that would have been perfect attire for Northern Fancon in May!
Set up at the very front of the business fair was the very intriguing display for Stuff-it Balloons by Lacey. What she had set up was her creative way of wrapping gifts. How she does it is she places the gifts inside a huge balloon, so that you can see the gift but you have to find a way to get to them. Of course the easiest way is to pop the balloon, but that's the fun of the gift wrapping idea! Check out her items on Facebook!
It was great to see the huge amount of support being shown by the attendees at the Spring Small Business Fair! Every single person I talked to was super happy, and was glad to see the amount of support!
Oh and don't forget #SaveTheRolladome