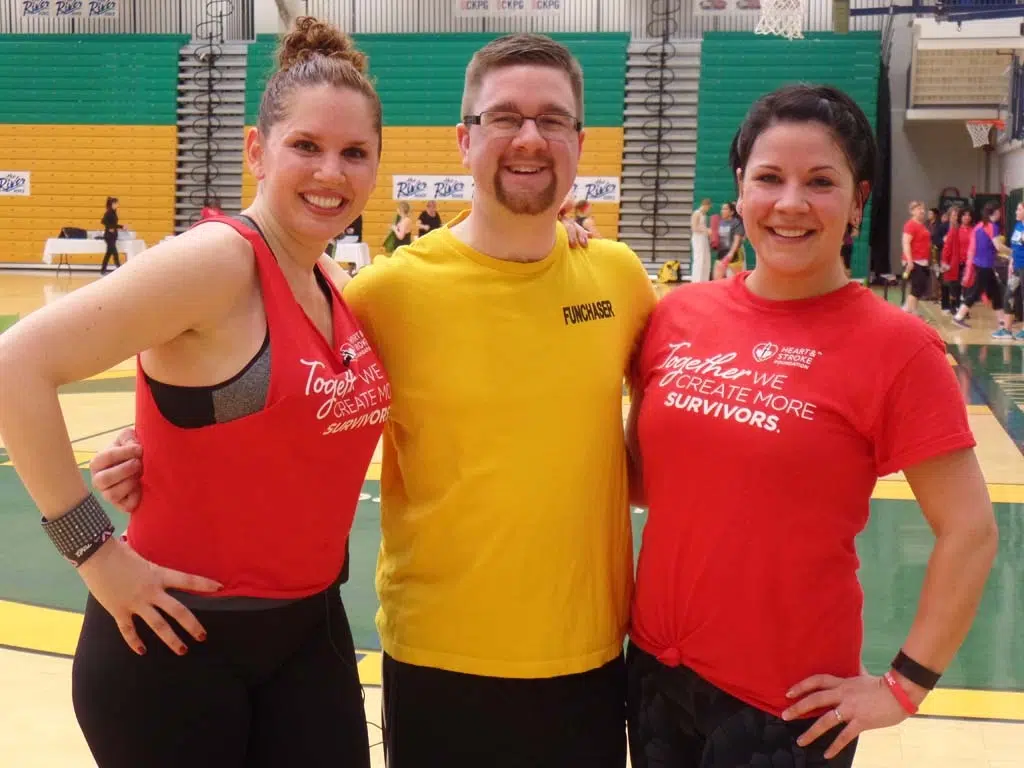 The Charles Jago Northern Sports Centre usually plays host to the Timberwolves or intramural sports. But today it was home to an amazing fundraising event.
The 1st annual Fitness Marathon for Heart was held to raise funds and awareness for the Heart and Stroke Foundation. With February being heart month, The Heart and Stroke Foundation came together with the Spread the Sunshine team for this fitness marathon.
What it entailed was 8 full hours of fitness classes starting off with a FIT Camp, a few karate, Tae Kwon Do, and kickboxing classes, zumba, and a few yoga classes. The variety of fitness classes gave the participants a broader spectrum of activities they are able to choose from which they may not have tried before.
Before I arrived, they had already been hard at work as they had finished the FIT Camp, but I did see the vigorous obstacles they had to encounter. A tough start to the day, truly testing everyone's stamina. That was followed by Vinyasa Yoga to settle the blood flow and get the mind back at ease. The Dance Groove Party was such a spirit lifting activity, getting the crowd jumping and jiving all around the gym.
Lisa Cassidy, and what I am going to call her Groove Crew, did an amazing job to lead the class. The music was absolutely perfect to match the tone that was created, I don't think that anyone at any point of that class DID NOT have a smile on their face. Lots of movement, lots of freedom, a class for loads of fun and excercise!
Prince George boxer Kenny Lally would have been proud of everyone at the marathon today as they gave it their all in Shotokan karate, Tae Kwon Do and a kickboxing class. It was great seeing all skill levels of athleticism trying the different varieties of classes and enjoying it no matter what their experience.
Of course, the troops weren't left unfed as the Northern Sports Centre provided them with a lengthy, and well deserved, snack break.
The kickboxing class did get the blood back flowing and adrenaline rushing after the snack break, but the event I was looking most forward to all day followed.I just could not get Zumba off the brain!
I have done plenty of athletic things in my life, whether it be soccer, basketball, baseball, yoga, badminton, you name it, I have most likely tried it. Zumba was one I have heard lots about but haven't been able to check off the list. That is until today!
Friends, family, and passer byers have mentioned zumba in my presence many times. I even mentioned to one of my friends that I was excited to try it and her response was "Oh you're going to sweat". Not the response I was expecting, but yes indeed that was the result.
The two lovely ladies that instructed the group had us waving our arms, stomping our feet, and jumping like we were at our favourite concert! Sure, some people may have looked silly, myself included, but that didn't matter, the movement, the hilarious time, and motivation to simply move the body was enough! If you haven't tried zumba I highly recommend it, whether you are serious about it, have heard of it and were curious, or just want to get some exercise and guarantee a could time with some laughs. What will also guarantee a laugh is if you check out the CKPG FunChaser facebook page and watch the video of me doing zumba, you won't regret it.
Follow the Link here: https://www.facebook.com/ckpgfunchaser/?fref=ts
A great idea to end the day in another yoga session to bring the mind at ease, the blood flow back to normal, and the serenity of zen to be sent through the body after a long day of activity.
The first annual Fitness Marathon for Heart went off without a hitch, a huge handful of people involved, amazing instructors, big thanks to the coordinators and ginormous financial help raised for the Heart and Stroke Foundation. I can't sign off without mentioning the fact that at the end of the day, there were also prizes given out. Those included individual and team prize categories: Most Fundraised, Spirit Award, Best Costume, and Endurance. There was also a Wildcard team which was drawn and given a prize. For full coverage and photos of winners head to the event page here: https://www.facebook.com/events/772993086167963/permalink/787359701397968/
Keep an eye out for your chance to get involved next year!