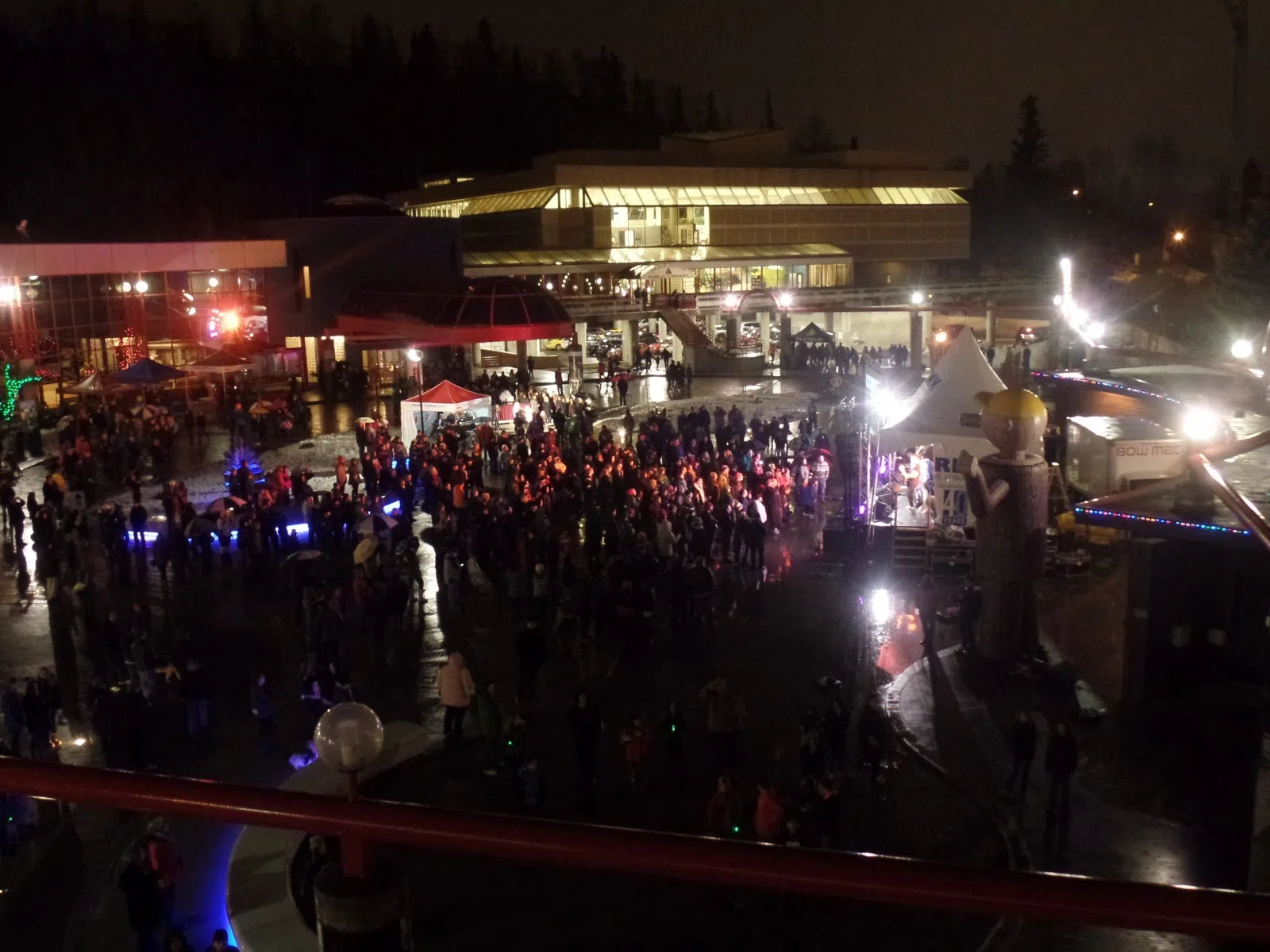 The one year anniversary of the 2015 Canada Winter Games was celebrated right where it was kicked off!
The Canada Games Plaza hosted the finale of the Celebrate Prince George festivities as it brought the entire city together for some great food, music and memories!
Food vendors were spread all throughout the plaza serving the great people and former volunteers from the games!  There was so much commotion, dancing, singing and cheering, that at one point a young boy holding a hot dog was so excited he was jumping around and singing too. Unfortunately for the little boy he dropped his hot dog, but was also too excited to care as he continued to enjoy his hot dog! A little dirt never hurt anybody right…?
As soon as Prize Gal Brittany and I arrived to the party, BC/DC were just entering the BCLC stage! One could correctly assume that by the name this band from Nelson, BC was an AC/DC cover band! What an absolutely incredible sound this band had, doing a swell job emulating what AC/DC gave them to work with, but also making it their own. The lead guitarist, Marc The Sharc was dressed in an evil Knievil type jumper suit in American red, white, and blue. He was hopping around the stage, doing a great Angus Young impression, hopping around the stage like the show was his. The drumming from Simon Writeoff was simply spot on! And of course, the vocals being a very important part of an AC/DC cover band with the distinct snarl of, well… whoever you prefer between Bon Scott or Brian Johnson, were magnificently done by Brian "Bon" Johnscottsman. The name, that I am going to assume is a stage name, is absolute perfection! Every song was done brilliantly and had the crowd singing their lungs out, including myself, as the people in the plaza danced and jumped and jived celebrating to keep the games memory alive!
Everybody has a different story as to why they live where they do, and my story in Prince George begins with the Canada Winter Games back as an intern for the station. As BC/DC left the stage, the fireworks hit the sky, and although I had hundreds of people surrounding me, I felt very in tune to myself and my thoughts and everything from the 2015 Canada Winter Games. That is exactly why events like this happen, to bring back the nostalgia of what happened in the past, and those memories came flashing back from 365 days ago!
Thank you to BC/DC, for all the vendors, for everyone involved in the planning of the Plaza Party, for bringing people together to Celebrate Prince George and celebrate the 2015 Canada Winter Games!