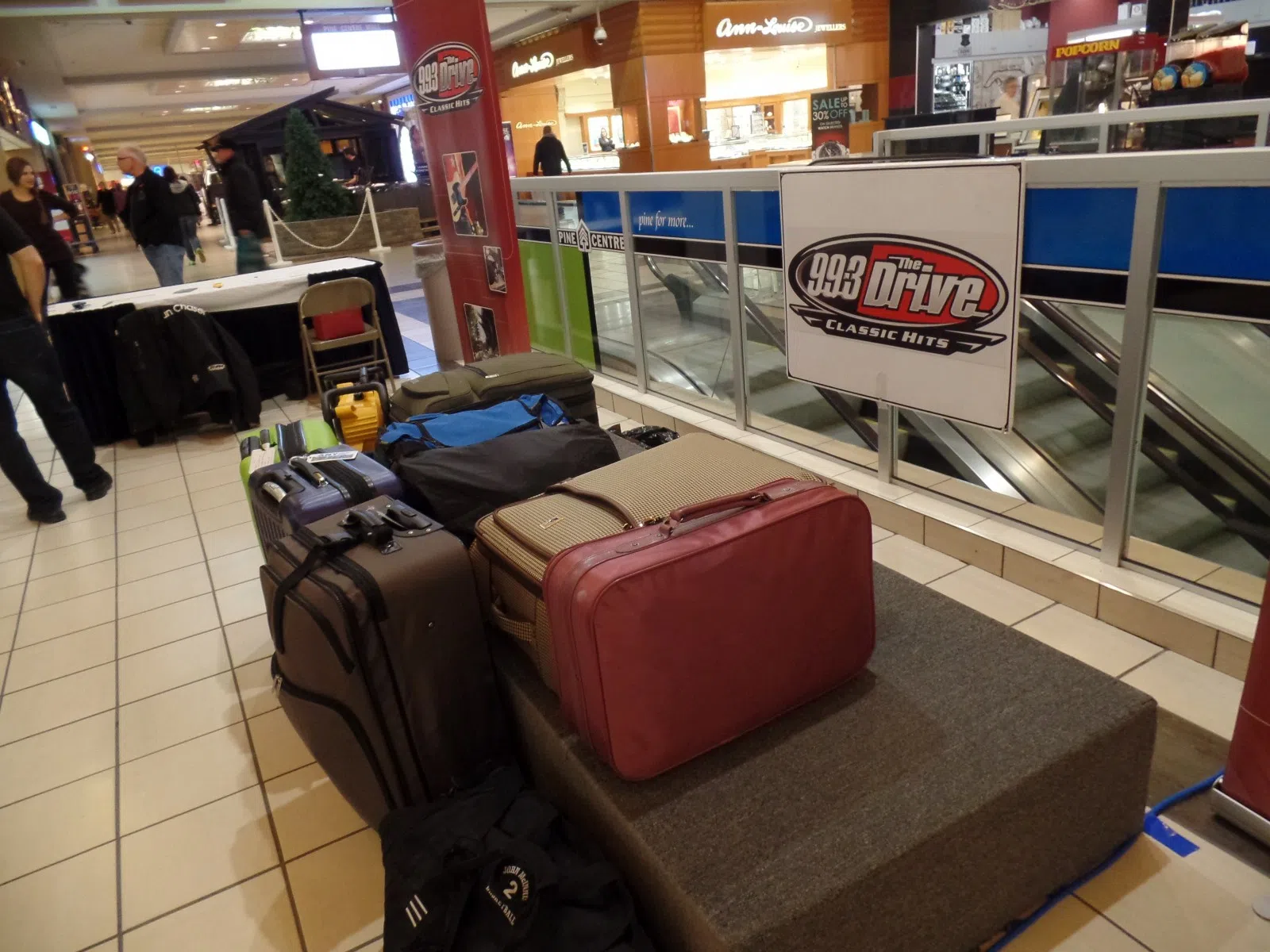 I have seen many contests in my days in promotions departments, but this had to have been the most intense, exciting, emotional contests I have ever been a part of.
The Drive partnered with Redtag.ca to give out a $5,000 travel voucher to a lucky winner.
The participants were invited to a suitcase party, in which they had to fill their suitcase with items expecting to go on a trip to somewhere warm, or tropical. From there,  the suitcases were weighed with every item, and then placed on stage. Morning host of The Drive, Doug Jones, had a list of items to call out which the participants must have in their bag. Next, the contestants lined up ready to tear into their bags in search of the items called out. There were rules, and regulations to the contest, which included that the items MUST come from your suitcase when the item is called, you can only use an item once (ie: phone used as a camera, can't use the phone again as a flashlight) and lastly the contestants must be able to present said item to the judges within 30 seconds. The list was tricky and lengthy, so in the case of a tie, the winner is declared by the lightest suitcase at initial weigh in.
The prize was so big that not only did contestants show up to Pine Centre Mall where the contest was held. but so did family and friends. There was even a family of 2 daughters and the dad there to cheer on their mother/wife and they were sporting a trio of signs that said "Go Mom Go".
The contest was full of a wide range of emotion, including frustration from eliminated contestants. Certain items unfortunately did not fit the criteria, and some people had the items we called, but weren't able to present it in the 30 second time allotment.
Eventually the full list was called (you can see some of the items in the photo gallery below), and it did come down to a tie. There were so many people that were so well organized, and must have spent time with their loved ones testing their item picking agility, but it all came down the initial weigh in.
When all was said and done the lightest bag ended up being only 8 kilograms, from Tamara Taylor. The youngest one in the contest, who was more stressed out about her exams this passed week will be able to wipe that stress away with the $5,000 travel voucher thanks to Redtag.ca!
Her mom, dad, and boyfriend were all there to support her in this extremely tense competition, and now she has the tough task of picking which loved one to take with her on the trip of a lifetime. But hey, if that's the worst of her concerns then life is swell.